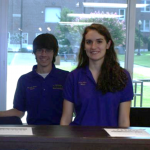 For the most part, Residential Colleges are made to group together like-minded people. And that can be really nice, but it's not like we're just a bunch of clones. You will meet all kinds of different people when you live in a Residential College, just like if you were to live in a regular dorm.
During my freshman and sophomore years here there was an RA on the guys' side that was from Burma. Prior to him telling me that, I didn't know that Burma existed. And this guy was a really amusing and fun person. Everyone in the building knew and loved him. Because you couldn't help not to. All three years that I have lived in STEM, there have been foreign exchange students from Rwanda. And these guys are some of the nicest people you'll meet while here. And they grew up in a completely different environment than I did for sure. So, I've learned a lot about Rwanda and about how very different life can be. STEM even started a study abroad program that involves going to Rwanda and teaching cool hands-on science and math lessons. And in May they are going to back to also teach about canning food and making ovens.
In my experience, you don't even necessarily have to leave your room to see the diversity that Residential Colleges have to offer. I've had more than my share of roommates over the years. Once I had a roommate who was from Kenya. She had the most beautiful accent. Another of my roommates' mothers was from…I think Korea. And she grew up near a big city. So, having grown up in a pretty small city myself, that was pretty different all on its own.
It doesn't matter where you've come from, what you're interested in, or what personality type you are. Like I said in my first post, STEM is a family. And from what I've heard, that's the same type of experience you'll find in any of the Residential Colleges. And what does that mean? That means that you'll fit in just fine. And you're also sure to meet all kinds of interesting people while you're here.