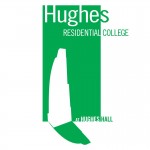 As I have said in other posts, Hughes Residential College has definitely made a difference in my freshman year here at UCA. If you are a student who feels prepared for college or a student who is timid about the whole thing, the staff of the residential colleges will do their best to help you.
Students come together to help each other because we are all in the same boat. We are all trying to balance a new lifestyle that we are unaccustomed to and learn how to manage time and different activities. Throughout this entire year, I have made new friends who have supported me through everything I have done this year. I wouldn't change a thing about the path my freshman year has started me on.
Freshman year is meant to be a year where you find who you are, discover people who have the same interests as you, and enjoy being who you are in this moment. There will be moments when all you want to do is go home. These moments happen to everyone. Always remember that you are never alone.
The residential colleges are resources available to help you. It doesn't matter what time of day or night. There will be someone who is willing to help you weather the downs and celebrate the ups with you. This is what college is about; being a part of something bigger than yourself and discovering what you live for.
At Hughes, we focus on leadership and community service projects. Trust me, there is never a dull moment in the Hughes lobby. We are just now beginning to establish the Hughes Leadership Institute and each advocate was required this semester to plan a service project and put it into action. During all of these programs and service projects, there are many opportunities to make friendships and become part of the Conway community.
If I had never had the opportunity to be in a Residential College I would not be as successful as I have become today. The staff and other students definitely made me feel as though I belonged here. Hughes Residential College has put my education front and center. I have been taught that I can do anything and I whole-heartedly believe that I can.
We can do anything with the help of people who want to see us succeed. Hughes Residential College has done just that for me. They will continue to do so for other students to come. Hughes is home!!! Come to UCA and you can be a part of something bigger than yourself. Go Bears!!