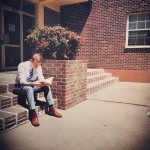 Daniel. Freshman. Marketing Major. STARS Residential College.
When writing on the topic of "diversity" the most socially obvious point of discussion is of the ethnic or racial diversity of one's surroundings. Given my background this is a fair definition. Graduating from high school in Bentonville to university in Conway carries a noticeable shift in demographics. However when considering my exposure to greater diversity at UCA I rarely think along those lines. The fact that the racial demographic of Bentonville is more uniform than my new home in Central Arkansas rarely occurs to me. College has matured my sense of diversity more to individuals and not attempts to divide people into a myriad of categories.
Living in a Residential College is a wonderful method of meeting people different than oneself. The STARS offers a charming summary of different parts of Arkansas. I am from NWA. My girlfriend, also a Short/Denney resident, is from a southern town that borders Louisiana. Many of my friends have homes scattered across our state's interior while others come from nations outside America; each brings a different social viewpoint to our shared world in the STARS.
I taste different foods being prepared in our kitchen. I hear different music played in the halls and different languages in conversation. Diversity exists in the STARS Residential College and every member of our program benefits from it.