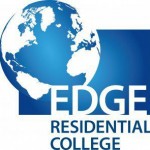 EDGE Residential College has plenty of social activities right inside the building.
We have had gaming nights, Halloween Costume Party, Ping-Pong tournaments, a Super Bowl party, a clue game night and plenty of other activities.
Language Corner is one of the weekly activities in EDGE Residential College. Language Corner is one of the activities that involve people of all ethnicities, cultures and beliefs from all over campus to get talking.
We even have had events in our building to help with the EDGE garden and courtyard. We have had programs on academic success plans, on how to study, how to adjust to college living and how to deal with roommate problems.
We have also had programs during Christmas time to decorate Christmas cards for the elderly in nursing homes. Going to these events have helped me make friends for a life time. I'm a little shy when meeting new people but EDGE has helped me become a social butterfly.
I believe each student in EDGE Residential College has a talent and it needs to be shown and it can be because of these fun activities in our building. I'm so thankful for the programs offered in EDGE Residential College because they have helped me open my eyes to my new way of life that I'm going to be experiencing for at least four years.  EDGE Residential College has a little something for everyone!