Connecting With Others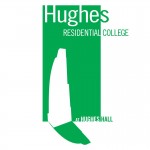 One of the main purposes for the residential colleges on campus is to allow students to form connection with not only other students but with faculty as well. Every week there are programs that are put on in the residential college classrooms and lobbies that are opportunities to meet new people and form new friendships.
I met some of my very best friends during an event called the Hughes Family Reunion. This event allows students who lived in Hughes in earlier years to come to Hughes Hall and talk with the new students who have just started their journey in Hughes.
It is important to attend programs and events that happen within the residential colleges. You are able to meet new people and learn new things about college and form connections with people who can help you with anything from personal problems to academic issues. Plus the activities are adventurous and you are always guaranteed a laugh or two. Everyone in the residential college is either new to college or have been through some college and have the skills to get you through the rough patch that beginning college can be.
Transitioning is hard, but it is possible to form friendships with those who will help your transition and allow you to succeed where you feel as though you might fail. Students in residential colleges have classes together in the dorms and within the other buildings on campus. It is required that you take a few classes within your residential college so you are exposed to people that live within your hall and to form study groups. This allows for students to have help and a support group when weathering the storm that freshman year can be. Everyone in the residential college is here to help.
So come on down and get ready to have some fun and meet new friends. You belong at UCA and in a Residential College.