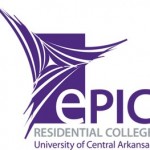 Residential College Life and Making Connections with Other Residents
One of the best parts about living in a Residential College at UCA is that there is almost always a program or activity going on, so when you have finished up your homework and studying for the day, the evening holds some fun without having to go far.  Resident Assistants (RAs) put on programs that are relevant to students and usually provide entertainment and some kind of snack.  These programs range from various cultural awareness events to ways to improve your study habits.  In STEM my freshman year, the RAs hosted a Halo tournament, with the winners receiving a Target gift card!
 I have enjoyed my time in EPIC and STEM because I have made some of my best friends here.  When you live with, do projects with, and study with a group of people consistently, you obviously are going to get to know them pretty well.  Because Residential Colleges allow you to live and work with people who share similar interests, it is so easy to make great friends here!  Even after two years apart from many of my friends from STEM my freshman year, I still keep in touch with them and still call them some of my closest friends.
If you are worried about fitting in or finding your place here, I assure you that your worries will fade the moment you start interacting with your fellow Residential College residents!