A tradition in the Office of Student Life is to order banners for all new, recognized fraternities and sororities at UCA.  This past week we added two (2) new banners to our collection as welcomed Sigma Gamma Rho back to campus and Alpha Sigma Phi to UCA for the first time.  It is great to see our UCA fraternity/sorority growing with the addition of such awesome organizations!
Sigma Gamma Rho Banner

Alpha Sigma Phi Banner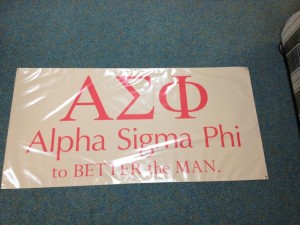 Congratulations to both of these organizations!